Crossing the Palisades is a group exhibition featuring graduating artists from the class of 2013. The exhibition is curated by Vincent Uribe—a member of SAIC Student Government and takes place on the 12th floor of the historic Sullivan Center within the student services area. Placing work throughout the interior that houses the student services offices pushes the paradox of the emerging artist exhibiting in the often more closed off spaces that make up upper level administration. Crossing the Palisades highlights the artists most recent accomplishments while confronting the challenges of entering the "real world" in order to become financially stable, at the same time maintaining the balance of a studio practice. This exhibition runs until May 10th and features the work of 

Alli Rooney
Ashlee Mays
Brittni Hessler
Carson Hoerz
Cody Tumblin
Connor Creagan
Ian Miyamura
Isabella Kendrick
Jena-Marie Gardner
Julia Cuddy
Kayl Parker
Liana Jegers
Nina Palomba
Nuri Kim
Sarah Malorie
Stephanie Cristello
Tim Mann
William James Thurman
Zeke Raney

Opening reception April 2nd
4:30-6pm in 1203J

Artists | Beth Hetland, Isabella Kendrick, Elliott Mickleburgh, Kayl Parker, Cody Tumblin, and Cameron Welch
LeRoy Neiman Center Gallery, Nov 28–Jan 9, 2012
Opening Reception: Thursday, November 29, 4:00–6:00 p.m.
The SUGs Directors are pleased to presentTake Away, an exhibition featuring a wide variety of work in the form of multiples and editions that visitors are invited to freely interact with, dispense and disperse. Take Away critically challenges how seven artists have interpreted ways we interact with work, as the gallery becomes a site for distribution.  Though separate in their respective practices, these artists work together to evoke a spirit of change in the gallery.
Working in between intersections of minimalism and Classical archetypes, Cody Tumblin's formal investigations have been transformed into malleable offset print stacks, resembling a large mosaic on the floor that invites viewers to rearrange and remove parts of the whole to create another visual composition.  The "stack" is an often used trope in the idea of the contemporary take away, but also acts as way to question use, value, and quality.  Kayl Parker's Ranch also participates in this dialogue through a two-part floor and wall piece that posits two idyllic seeming landscapes, as an antecedent to what constitutes a "well-made" photograph.  Similarly questioning the value of an artist's edition are Isabella Kendrick and Elliot Mickelburgh's collaborative piece that makes clever use of children's drawing practices – enforced by Kendrick's signed and numbered genetic clones of a common houseplant.
Perhaps we understand the take away as an invitation to a pocket-sized conversation we hold onto for later, such as in Beth Hetland's piece.  However, the freeness of interaction in this exhibition is not always so clear, the take away not necessarily carefree, or easy.  As Cameron Welch's piece suggests, the take away may not travel outside the gallery, and if it does, it carries its own consequences.  Where these Take Away artists intercede has to do with the invariable lifespan of the work – some elements may expire more quickly than others whereby fostering a dialogue between the fixed and the mutable speaks to the state of the gallery at that very moment.
Call for Entries: Touched by Fire
Touched by Fire is an annual juried exhibition that celebrates the work of artists with mood disorders such as depression, anxiety, and bipolar disorder. The exhibition will be held Thursday, November 15, 2012, at Cooper's Fine Art Gallery in Toronto, Ontario.
Once again, SAIC has been invited to be a part of this exhibition. This year 10 SAIC students, faculty, and staff will have the opportunity to show their work at this one-evening event that draws more than 700 viewers.
Key information
Deadline: Friday, October 19, 2012, 4:00 p.m.
Notification of acceptance: Friday, October 26, 2012
Exhibition: Thursday, November 15, 2012
Eligibility
The competition is open to SAIC students, faculty, and staff affected by a mood disorder. Click here for more details about submitting your work to Touched by Fire.
Tuesday, July 17, 2012–Sunday, September 23, 2012 Ryerson and Burnham Libraries (not open Saturdays and Sundays)
During the course of the last century, comics have steadily evolved from the works of the early innovators to the contributions of the many contemporary creators who continue to rethink and reshape the medium. Today, as many gallery and museum exhibitions worldwide are focusing on the work of comics artists, it becomes unmistakable that the definition of comics has expanded to include much more than just graphic novels, superheroes, and Sunday funnies; they now also function as avenues for visual experimentation and modes of self-expression.
The works on display in this exhibition begin with the newspaper comics of the early 1900s, which in the hands of Lionel Feiniger combined spirited narratives with polychromatic frontiers. The exhibition continues through underground and contemporary artists who have taken publishing methods into their own hands, creating multicolor serigraph editions which bear more of a resemblance to artists' books than something you would normally find in a comic shop. The influences of several art movements not traditionally associated with comics, such as Expressionism, Surrealism, Pop, and other forms of contemporary art, are immediately recognizable in many of the works on display. This assemblage is all drawn from the Ryerson and Burnham Libraries, which has actively been growing its collection of comic art, including the work of many young creators who currently live and work in Chicago.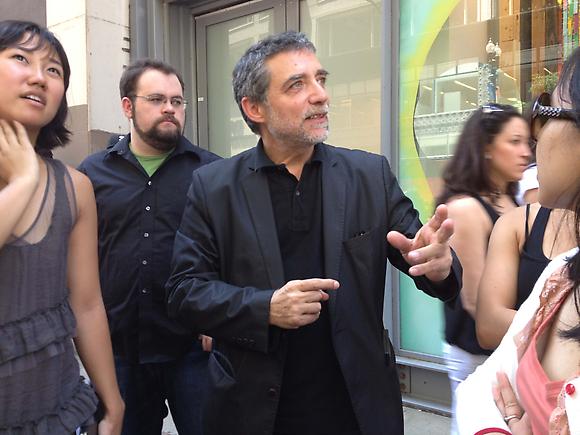 Richard Gray Gallery, in partnership with The School of the Art Institute of Chicago (SAIC), is pleased to announce People vs. Space, a student exhibition that is the culmination of an intensive summer course led by Jaume Plensa, world-renowned Spanish sculptor and creator of the Crown Fountain in Chicago's Millennium Park. The exhibition opens Friday, July 6 and runs through July 20, 2012. The artworks on view in People vs. Space were conceived and created by 11 SAIC undergraduate and graduate students, as well as two visiting international students. Throughout People vs. Space, students worked directly with Plensa to develop project proposals for public works integrating contemporary media with the core concerns of objects, spaces, communities, and interactions. This exhibition features the detailed models and proposals developed by class members.

For the purpose of the class, Plensa asked the students to concentrate on the roles of both the artwork and the artist in public spaces and how they are understood in contemporary contexts. Students were encouraged to explore the multiple ways in which artists can create new kinds of connections between people and space, art and society, and art institutions and communities. 

Plensa is the current William and Stephanie Sick Distinguished Professor at the School of the Art Institute of Chicago. Established in 2006 by a generous gift from William and Stephanie Sick, this distinguished professorship enables internationally renowned artists and designers to visit and teach at SAIC. People vs. Space is the second course taught by Plensa at SAIC that has culminated in an exhibition through Richard Gray Gallery. This summer, Plensa's co-teachers are SAIC faculty members John Manning and Bo Rodda (SAIC MFA 2010). "We are proud to recognize the contributions that Jaume Plensa has made to the cultural landscape of the city of Chicago, and we are thrilled that SAIC students have the opportunity to use their talents to work with Plensa on proposals for major new public art works in our great city," stated William and Stephanie Sick.


Exhibition Opening and Artist Reception:
Friday, July 6, 3:30-5:00 pm
Richard Gray Gallery
875 North Michigan Avenue, Suite 2503
Chicago, Illinois 60611
Sullivan Galleries
MFA Show April 28–May 18
Reception: Friday, April 27, 8:00–10:00 p.m.
A must-see presentation of the next generation of artists and designers, this exhibition features work by more than 130 students completing their MFA degrees at SAIC. Guest curators Steven Bridges, grupa o.k. (Julian Myers and Joanna Szupinska), Tumelo Mosaka, and Pablo Helguera transform the galleries into series of visual encounters and unconventional experiences. 
Graduate Presentations
Graduate Writing Program Readings

Mondays, through April 23, 12:00 p.m.
Joan Flasch Artists' Book Collection
37 S. WabashAve., room 508
IMPACT: Graduate Performance Festival
April 28 and 29, 7:00 p.m. 
SAIC Performance Space, 280 S. Columbus Dr., room 012
Graduate students completing their degrees in Performance at SAIC present their thesis works, which cross the borders of theater, movement, and the visual arts, and collectively present a vision of the next wave of performance art. 

Film, Video, New Media, Animation, and Sound Festival
May 9–11, 4:30–10:00 p.m.
Gene Siskel Film Center, 164 N. State St. 
Encounter the next generation of film, video, and new media artists as SAIC students present their thesis projects in this festival of innovative live-action shorts, animation, feature-length narrative and nonfiction works, and experimental digital and audio pieces. 
All You Can Eat 420
Tom Robinson Gallery 2416 W North Ave (at Western Ave) Chicago, IL 6064
Friday, April 20, 2012
6:00pm until 8:00pm All You Can Eat 420 is an exhibition of student work from the Advanced Fiber and Material Studies studio at The School of the Art Institute of Chicago (SAIC). The exhibition combines multiple practices involving fiber, paper-making, sculpture, performance, video, photography and installation.
Themes explored include migration, urban sprawl, animism, identity, hegemony, intersubjectivity, sustainability, and our relationships to objects, materials, and each other.
Advanced Fiber and Material Studies Studio:
Kayla Anderson
Luis Miguel Bendaña
Robert Bettinger
Nicole Boyett
Abigail Marguerite Dreier 
Geanna Hernandez
Maegan Jenkins
Emma Bennet Jones
Sarah Mallory
Emma Robbins
Adam Liam Rose
Darcy Terrell
Vincent Uribe
Zitlali Yunuhem
Alexander Zak
*** Friday, April 13 ***

Opening Reception
4:30–7:00 p.m.
280 S. Columbus Dr. 
In this end-of-year exhibition first-year students from the Department of Contemporary Practices have the opportunity to propose and create site-specific work to be presented in and around SAIC's Columbus building.
The exhibition runs through April 27.
INTER-ACTION
7:00 p.m.
SAIC Performance Space, 280 S. Columbus Drive, room 012 
In conjunction with the ARTBASH 2012 exhibition, Contemporary Practices students present live performance and sound works, all created in courses taught as part of the first year experience.
June 30 and July 1
Grant Park's Butler Field
All SAIC students are invited to submit an application for the Gold Coast Art Fair, June 30 and July 1.
Applications are due May 1.
All SAIC enrolled students and 2012 graduates are eligible to apply, and 10 will be selected to participate. The $595 fee will be waived.
Click the links below for more information and to download the application.
Gold Coast Art Fair Exhibition Information

Gold Coast Art Fair Exhibition Application
PRO NEO POST
Visual and Critical Studies MA Thesis Exhibition
Opening: April 6, 7pm to 10pm
Running: April 6 to 20, 2012
Autumn Space Gallery
1700 W. Irving Park Road, #207
Artists:
Jessica Bardsley
Chris Campe
Kelly Christian
Alana Dao
Kate Korroch
Liz Medoff
Elizabeth Nelson
Josh Rios
Gaby Scott
Annan Shehadi
Beverly Taylor
The Visual and Critical Studies program is designed for students interested in the scholarly and creative investigation of the production, dissemination, and impact of visual images, objects, experiences, and practices. With the visual as a starting point, students use multiple methods of critical investigation to study the interactions between visual phenomena and their historical, disciplinary, and social contexts.

Nick Schleicher (BFA 2011), Untitled (1035) (detail), oil on canvas. View the full image here.March 16, 7:00–9:00 p.m.
Sullivan Galleries
33 S. State St., 7th floor

More than 270 talented SAIC students completing undergraduate degrees this spring exhibit their innovative work. 

SAIC promotes crossing disciplines and challenging received assumptions, and the results of this approach are showcased in this exhibition.

The exhibition runs through April 4.
IMAGE OF THE WEEK
On Friday, December 9, the Sullivan Galleries welcomed visitors to the openings ofLuminal and And then a pause. Luminal is open through December 23 and And then a pause is open through February 18. 

Visit saic.edu/exhibitions for more information about these and other exhibitions.